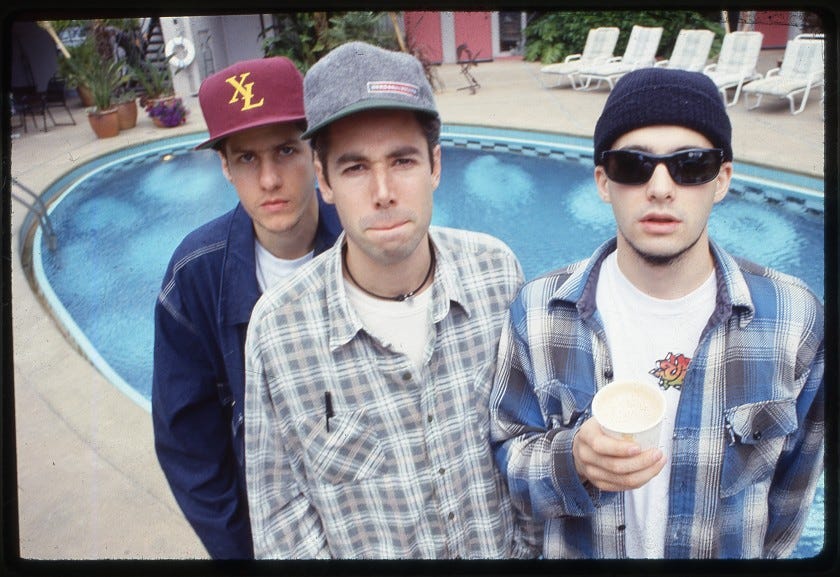 The Hip-Hop 25 counts down the 25 greatest rap artists in history, as part of Ben Westhoff's newsletter Drugs and Hip-Hop.
This is the final free post. If you've considered purchasing a subscription now is the time. Non-paid members will only get occasional public posts.
See also: My Joe Rogan experience
---
The Beastie Boys had a girl. You probably know this. Named Kate Schellenbach, she played drums in their early incarnation as a hardcore punk band.
She and the Beasties ran together in the early '80s downtown Manhattan scene, hanging out at clubs like Roxy's and Danceteria. The group came from families of playwrights, architects, and art dealers in Manhattan and Brooklyn, and had free reign to stay out late and do whatever they wanted. The drinking age was 18, if that, and Billy Idol and Madonna were in the mix.
I mean, c'mon.
Michael Diamond (Mike D) admits he and the guys were too intimidated to go to the Bronx and Harlem to see hip-hop in its beginnings. Lucky for them, star DJs started performing downtown, including Afrika Bambaataa and Jazzy Jay at an East Village club called Negril, along with the b-boyin' Rock Steady Crew. That blew their minds.
But seeing hardcore punk demigods Black Flag most inspired the Beasties' musical dreams. This was early 1981, and the packed Peppermint Lounge was loud, sweaty chaos. Each of the founding Beastie Boys were there — Schellenbach, Mike D, Adam Yauch (MCA), Adam Horovitz (Ad-Rock), and a dude named John Berry who wasn't around long. Other audience members included Ian MacKaye of Minor Threat, Thurston Moore of Sonic Youth, and Henry Rollins, who was still scooping cones at a DC Häagen-Dazs and wouldn't become Black Flag's singer until later that summer. "To him and all of us in the audience, that night in March changed what we thought was possible," Mike D wrote in Beastie Boys Book.
Beastie Boys was an acronym meaning Boys Entering Anarchistic States Toward Internal Excellence (okay), and they performed their first show for MCA's 17th birthday party. When it was over a punk rock record store owner offered to put out their record, and soon the lead singer of Bad Brains asked them to open a show.
The Beasties practiced at MCA's family's Brooklyn Heights brownstone, where he once successfully blew up the back yard fence using firecrackers and a detonator. Their punk recordings sunk, but they experienced local success with "Cooky Puss," a sort of proto-Jerky Boys-meets-Malcolm McLaren sound experiment, based upon a prank phone call to Carvel, who made a specialty ice cream cake called the Cookie Puss. It makes no sense on paper, and probably even less sense in execution.
Their transition to hip-hop was accelerated by meeting a DJ from NYU who called himself DJ Double R. He had turntables, a PA, and a drum machine. He even had a machine that could make bubbles, critical in the waning disco era.
He was Rick Rubin.
Rubin would became a seminal figure in the history of modern popular music, perhaps the seminal figure. At one point at Power Play Studios in Queens, Rubin was putting together Licensed to Ill, Run-DMC's Raising Hell, and Slayer's Reign in Blood — three classics, one of them metal — all at the same time. He would go on to produce some of the most epochal music from Geto Boys, Danzig, Red Hot Chili Peppers, Johnny Cash, Kanye West, and Lana Del Rey, among many, many others.
Rubin partnered with Russell Simmons, the manager of Run-DMC and brother of Joseph "Run" Simmons. The two started Def Jam, the most important hip-hop label perhaps ever, responsible for LL Cool J, Slick Rick, and Public Enemy, for starters.
Rubin came from suburban Long Island, and introduced the Beasties to rock bands like Led Zeppelin. He enjoyed punk, but pushed the Beasties to make hip-hop. As he says in the Def Jam 25 book:
I remember suggesting that maybe we should really become a rap group...It seemed like the honest thing to do. And I guess I persisted enough over time that everybody decided to do that. We didn't even think about it as a color thing at all. I felt like we were in it as much as anyone who was black.
Rubin's comments about race haven't aged well, but the Beasties' whiteness wouldn't come to define them the way it would for some white rappers who followed them, like Vanilla Ice.
Nonetheless, the Beasties would be widely criticized for misogyny. So would Def Jam's leaders. Rubin and Simmons' names were basically untouchable in hip-hop for decades, but in recent years Simmons has faced numerous sexual misconduct allegations, including charges of rape. Meanwhile, Kate Schellenbach calls Rubin a pig who basically expunged her from the Beasties once they turned hip-hop, turning the guys into chauvinist assholes in the process. Returning in 1984 from a month-long trip to Europe, she saw Mike, Adam, Adam, and Rick at a Manhattan club.
I immediately noticed they were wearing black-and-red Puma tracksuits, matching Puma sneakers with fat laces and — most ridiculously — do-rags. Someone told me Rick had bought everyone the outfits. I immediately recognized this as a tactical move to solidify the band and distance me from them. Rick had flat-out told me he didn't like the sound of women rapping, so I knew I'd never stood a chance with him.
"The chemistry in the band changed when Rick came in," added Ad-Rock. "Rick was this larger-than-life character — loud, confident, and very animated. Funny. He was very into that early-'80s/Captain Lou Albano-wrestler thing—a lot of crazy yelled speeches, really hyped up."
The guys didn't acknowledge the injustice toward Schellenbach for years to come. For the time being Rubin served as the Beasties' DJ, and he put them in the studio to make their first rap song, "Rock Hard," which sampled AC/DC's "Back in Black" without permission.
In the beginning everything in rap was "rock," from Afrika Bambaataa's "Planet Rock" to Run-DMC's King of Rock to Horovitz himself, the King Ad-Rock. "Rock Hard" isn't well-remembered, but I like it.
It established their back-and-forth rhyming technique — setting each other up, cutting in, and rhyming on top of each other, as opposed to just rapping full verses in sequence. That's what they're best known for. And "Rock Hard" has funny lines.
Rock 'n roll rhythms are raunchy and raucous

We're from Manhattan, and you're from Secaucus
Def Jam got the Beasties on tour with Madonna; supposedly she wanted Run-DMC, but they were too expensive. This was right after the release of Like a Virgin, and she was blowing up. The stories from the tour are incredible; legendary West coast mobile DJ Rodger Clayton was on turntables for their L.A. dates, and at a wild "mini-mansion" party in Miami "John Salley was getting freaky in a hot tub."
Back at home the Beasties finally had a true hit single of their own, "Hold It Now, Hit It," which began to crystallize their style in all its bratty glory.
I grew up thinking the Beasties were mainly a phenomenon among other white people, but this was not the case. "Hold It Now, Hit It" cut across racial demographics, inspiring Ice-T to give up his outfit of leather, spikes, and biker gloves in favor of an image closer to his streetwise lifestyle.
As strange as it sounds, the Beasties were incredibly influential on West Coast gangsta rap, from Ice-T's "6 in the Mornin'" (which kicked off the genre) to N.W.A. From a no-longer-online Playboy article I wrote on the subject:
"The Beastie Boys are dope," MC Ren of N.W.A told me when I interviewed him at the Hard Rock Hotel in his adopted hometown of Palm Springs. We'd paused our interview so he could admire a Beasties' lyric that was immortalized on the wall ("I've got more spice than the frugal gourmet" from "Finger Lickin' Good"). "Their first album, man that shit was classic."

...Ice Cube was a huge fan as well. In fact, before N.W.A Cube was in a trio called C.I.A. On their 1987 EP Cru' In Action! (produced by another future N.W.A member, Dr. Dre) they copied Licensed to Ill's rhyme patterns, used samples from the album, and employed similar turns of phrase on songs like "My Posse" and "Ill-Legal." "C.I.A. was a Beastie Boys rip-off," Alonzo Williams told me, a mentor to the group.
While crafting Licensed to Ill, Rubin would be incommunicado for weeks at a time, trying to establish the album's texture. He is largely responsible for the hard, spare-percussion-driven sound that informs the work, though the Beasties themselves deserve more credit than they got. It was MCA's idea to take a tape with a drum pattern, flip it over, and record the drum machine backwards, giving "Paul Revere" its idiosyncratic beat. As for the song's famous intro, that came directly from DMC, according to Beastie Boys Book:
We looked down the block, and it was Run…We saw D, far behind him, turn the corner and slowly stride toward our stoop. "Here's a little story I got to tell! This song'll be like a story. Your story. Here's a little story I got to tell, about three bad brothers you know so well. It started way back, in history, with Ad-Rock, MCA, and me, Mike D." DMC walked up. "Yup. That's it. That's the intro."
Run-DMC further propelled the group by bringing them on tour. "Run-DMC made it possible for the Beastie Boys to do America," Chuck D told me, "and then the Beastie Boys made it possible for Public Enemy to do America." (He added that during one of their shows together Mike D was so drunk that he couldn't finish "Rhymin' and Stealin'" because he was vomiting.)
"Paul Revere" and "The New Style" took the Beasties to platinum, but "(You Gotta) Fight For Your Right (To Party)" made them ubiquitous on MTV. It was more entitled mid-'80s than downtown cool, and the Beasties now claim it was a throwaway track that barely made the album. They stopped performing it live after 1987. But you wouldn't be reading this if not for the song; it brought them to mainstream America, and generated millions of dollars in record sales.
Unfortunately the Beasties saw very little of that money, they claimed, and their relationship with Rubin and Simmons soured. They jumped ship after only one album, and even today the Beasties speak somewhat derisively about Def Jam, and vice versa.
But just as Rubin doesn't deserve full credit for their sound, he also doesn't deserve full blame for their randy public image. I have no doubt that Rubin was macho and sexist and full of himself back in those days, but Mike and the Adams were too, and there's a lot of revisionist history about how the Beasties transitioned from "The girlies I like are underage," homophobia, and the giant, hydraulic phallus they brought on tour to "The disrespect to women has got to be through," and the Tibetan Freedom concerts.
As punks they sought to mock the oversexed frat-boy image, they say, and their initial hip-hop "hardness" was a satire, though eventually they began inhabiting it, as if by accident. Hmmm. I think it's much simpler: They were horny young people who made bad decisions and later became thoughtful grown-ups who regretted those decisions. It happens to all of us. They just did it on television.
---
Somehow Ad-Rock started dating Molly Ringwald. He came out to L.A. to star in a 1989 movie called Lost Angels, and not long afterwards began dating actress Ione Skye, at the same time she was living with Anthony Kiedis. They later married, and Skye portrayed Ann Veal's mother in Arrested Development. Ad-Rock really should have locked that down, but they divorced in 1999 and seven years later he married feminist punk musician Kathleen Hanna.
After leaving Def Jam the Beasties moved out to Los Angeles, first setting up in the Mondrian hotel and then in a house off Mulholland Drive they called the G-Spot. Winner of a bidding war for their services was Capitol, the iconic label based out of that Hollywood building that looks like a stack of records, whose other artists included the Beatles and the Beach Boys.
Suddenly rich, the Beasties bought ridiculous cars (Yauch got a Cadillac Fleetwood Brougham d'Elegance from the early '70s) and otherwise squandered their budget however possible, even renting an arcade's worth of games for their studio. They worked with producers the Dust Brothers — who would go on to produce Beck's smash Odelay — and Matt Dike, the co-founder of Delicious Vinyl, which made stars out of Tone Loc and Young MC. Copyright law has evolved so that the Beasties' second album could never be made today, considering that many of its hundreds of samples were uncleared, not to mention assembled using late-'80s technology that's now equivalent to Fred Flintstone driving with his bare feet.
They called it Paul's Boutique after a men's clothing store in Brooklyn that ran funny ads, and it was clear to everyone that the album was something special. But Capitol was shedding staff and going corporate; Ad-Rock said their marketing plan was basically for them to diss MC Hammer, someone who'd never criticized them and whom they'd never met.
Paul's Boutique lacked a "Fight For Your Right" or, really, any big single. In his excellent book about the album, For Whom the Cowbell Tolls, author Dan LeRoy says they actually did craft a marketable track, "The Jerry Lewis," which imagines a dance craze based on Lewis' moves in The Nutty Professor. But they decided to bury it. (LeRoy's other book on the album, from the 33 1/3 series, Paul's Boutique, is worth checking out as well.)
They were serious artists now, and they weren't going back. Although that didn't stop them from throwing eggs off of their hotel roof at people waiting in line to see Billy Crystal across the street at the Comedy Store, or billing their poolside drinks to the hotel room of their new labelmate, Bret Michaels from Poison.
---
Just for fun, let's analyze the likely truthfulness of the Boys' drug use claims on Paul's Boutique track "Car Thief."
I'm a writer, a poet, a genius, I know it
I don't buy cheeba, I grow it
True or false? These geniuses did not grow their own weed. Not in New York — who grows weed in a Manhattan apartment? — and not in L.A., where they employed the services of a dealer called Hippie Steve.
People always trying to get next to me
I had a beautiful experience on ecstasy
True or false? I have no doubts the guys tried MDMA in these years, and, unlike much of what's available today, I'll bet it was pure and amazing. Ecstasy had only been banned a few years earlier, and was largely popularized in the California rave scene.
I smoked up a bag of elephant tranquilizer
Because I had to deal with a money-hungry miser
True or false? Elephant tranquilizer? That's carfentanil, the notorious fentanyl analogue that's 10,000 times more potent than morphine. But no, carfentanil wasn't around back then. According to Genius they mean PCP, and that could be right, but it could also be ketamine, which people sometimes call horse tranquilizer. Did they smoke a bag of it, though? No.
Had a 'caine-filled Kool with my man, Rush Rush
Saw my teeth fall in the sink when I started to brush
True or false? This is intended to besmirch Russell Simmons, with whom they were in a legal dispute. Still might be true.
You be doing nose candy on the Bowie coke mirror
My girl asked for some, but I pretended not to hear her
True or false? Did the Beasties do cocaine? Yes. But by all accounts it didn't become a major issue, as it did for other stars like Bowie.
---
Considered a flop at the time, Paul's Boutique went platinum, but very slowly. Still, critics loved it, comparing it to De La Soul's recent pastiche triumph 3 Feet High and Rising, and even to Sgt. Pepper's. The Beasties set to work on their third album, opening their own studio in Atwater Village, called G-Son. (The label Mad Decent later took it over.) They started their own magazine, clothing store, and record label, called Grand Royal, which soon released the debut of alt-rockers Luscious Jackson, featuring former Beastie Kate Schellenbach.
Check Your Head dropped on the first day of spring, 1992. At my high school in St. Paul the Beasties instantly became the most popular act, which continued until my graduation. I can't really explain how this happened. "So What'Cha Want" shreds, but what is that song even about? Can you quote any of the verse lyrics, apart from mumbling something about, "Where'd you get your information from…"? (Did you know the next line is, "You think that you can front when revelation comes?")
The video recalls the looped footage playing on cloth backdrops at dance parties of the era -- vaguely psychedelic with inverted colors, like someone fooling around on Photoshop.
The music critic Ted Gioia says the 1990s represented the end of "cool," in the "above it all" or "not giving a shit" sense of the term. In the Check Your Head era caring was highly discouraged, what with all of the slacking to be done. 9/11 brought cool to a screeching halt, says Gioia, and in the Trump era there are few greater offenses than not caring. The Beasties were ahead of the curve, and Check Your Head was their transition to seriousness. MCA began dabbling in Buddhism and traveling to India, Nepal, and Tibet. "He drank yak-butter tea with the monks and loved watching them debate one another in their customary style," Mike D wrote.
But they still had a few wacky set pieces in them, particularly the "Sabotage" video from Ill Communication, which remains perhaps their biggest song. Ad-Rock based the lyrics on a dispute with an engineer who was interfering with their creative process, and Spike Jones fashioned the video on a bare bones budget. It's just them fooling around with wigs and sunglasses, shooting without permits in random locations, and sending up '70s cop shows. Amy Poehler contends there would be "no Anchorman, no Wes Anderson, no Lonely Island videos, and no channel called Adult Swim" without it.
After Kurt Cobain died, the Beasties replaced Nirvana as co-headliners on the Lollapalooza 1994 tour, along with Smashing Pumpkins (whom they'd never heard of).
I had the pleasure of moshing to its most incredible lineup: Funkadelic, Green Day, A Tribe Called Quest, Flaming Lips, Nick Cave, the Pharcyde, and others. Each day began with Tibetan monks chanting on-stage.
MCA started a nonprofit and organized a series of Tibetan Freedom concerts in the late '90s, which played in massive stadiums. Vendors with connections to the United States-China Business Council were banned, which meant you could only buy RC Cola, instead of Coke. Bono called for human rights in Ireland and Q-Tip called for peace in Kashmir. "If you want to see democracy in Tibet, make some noise!" yelled KRS-One.
Everyone celebrated together, calling for nonviolence.
---
The title Hello Nasty comes from the greeting you'd hear when calling the Beastie Boys' publicity company, called Nasty Little Man. Horovitz calls it their best album. There's a case to be made; at the very least "Intergalactic" is the best non-Daft Punk, Daft Punk song.
By now they'd moved back to New York, and Hot Sauce Committee Part Two was their final album together (there was no part one). It contains fake samples from bands that don't exist, intended to frustrate liner-notes-reading obsessives.
Bonnaroo 2009 was their last show together; none of them knew it at the time. In 2012 MCA died from salivary gland cancer. He was 47. Two years older than the other members, he was both their older brother and their creativity spirit animal. Beastie Boys Book serves in large measure as a tribute to him.
And then, that was it. The inflatable phallus and the casting calls of girls in bikinis and the mushroom trips and the Hollywood dreams and the platinum albums and the awards ceremonies, it all went away, because everything goes away. They started out as cocky cretins and they became hip-hop legends and in a hundred years they'll be forgotten by everyone except enterprising music historians. The young Beasties just wanted to have fun, and the older Beasties just wanted to do the right thing. Each option ultimately gets you to the same place, which is what makes this whole enterprise so beastly.
Is that too depressing? Ok, then let's go out with this picture of Adam Yauch as Max from Where the Wild Things Are.
The Hip-Hop 25 counts down the 25 greatest rap artists in history, as part of Ben Westhoff's newsletter Drugs and Hip-Hop.
This is the final free post from Drugs + Hip-Hop. If you've considered purchasing a subscription now is the time. Non-paid members will only get occasional public posts.
If you're new (thanks Tyler and The Browser!) check out my archive of free posts.
See also: My Joe Rogan experience.
If you have financial issues email me at ben.westhoff@gmail.com and we'll work something out.