The Hip-Hop 25: #25 Eazy-E (tie)
Before, hardly anyone told stories about violence. Now, hardly anyone doesn't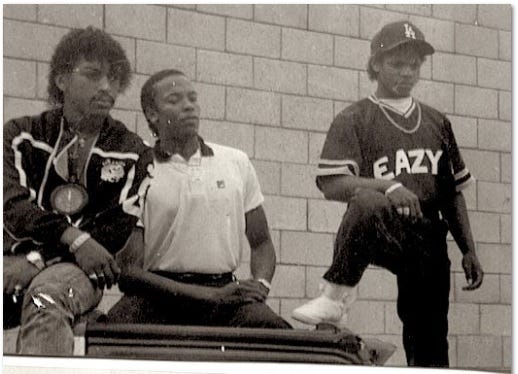 Arabian Prince, Dr. Dre, and Eazy-E in 1987, courtesy of Sir Jinx
The Hip-Hop 25 counts down the 25 greatest rap artists in history, as part of Ben Westhoff's newsletter Drugs and Hip-Hop. Go paid now before it all goes behind a paywall.
On a hot day in 2014 I pulled off of the 710 interstate to visit Eazy-E's house in Compton. Eazy was a rap legend, and, for my West Coast hip-hop book Original Gangstas I wanted to understand his origins. He was the founding father of gangsta rap, the man who created N.W.A in his own image. In the early 1980s, while Dr. Dre was emulating Morris Day in a song-and-dance group called World Class Wrecking Cru, and Ice Cube was attending high school in the Valley, Eazy was selling crack cocaine on this very block. Though his immediate family was stable, he had cousins who were murdered, and he was involved with street violence himself.
I got out of my car and looked for the house. The block was quiet, except for a crowing rooster, and there were almost no trees to block the sun. At a nearby intersection sat a large nursery, full of mustard greens and collared greens and other vegetables.
It felt out of place. I felt out of place. Having come of age on music and movies portraying Compton as the most dangerous place on Earth, I was nervous.
I saw the house. Eazy would later live in a mansion, but this was the home he grew up in, the home where his mother still lived.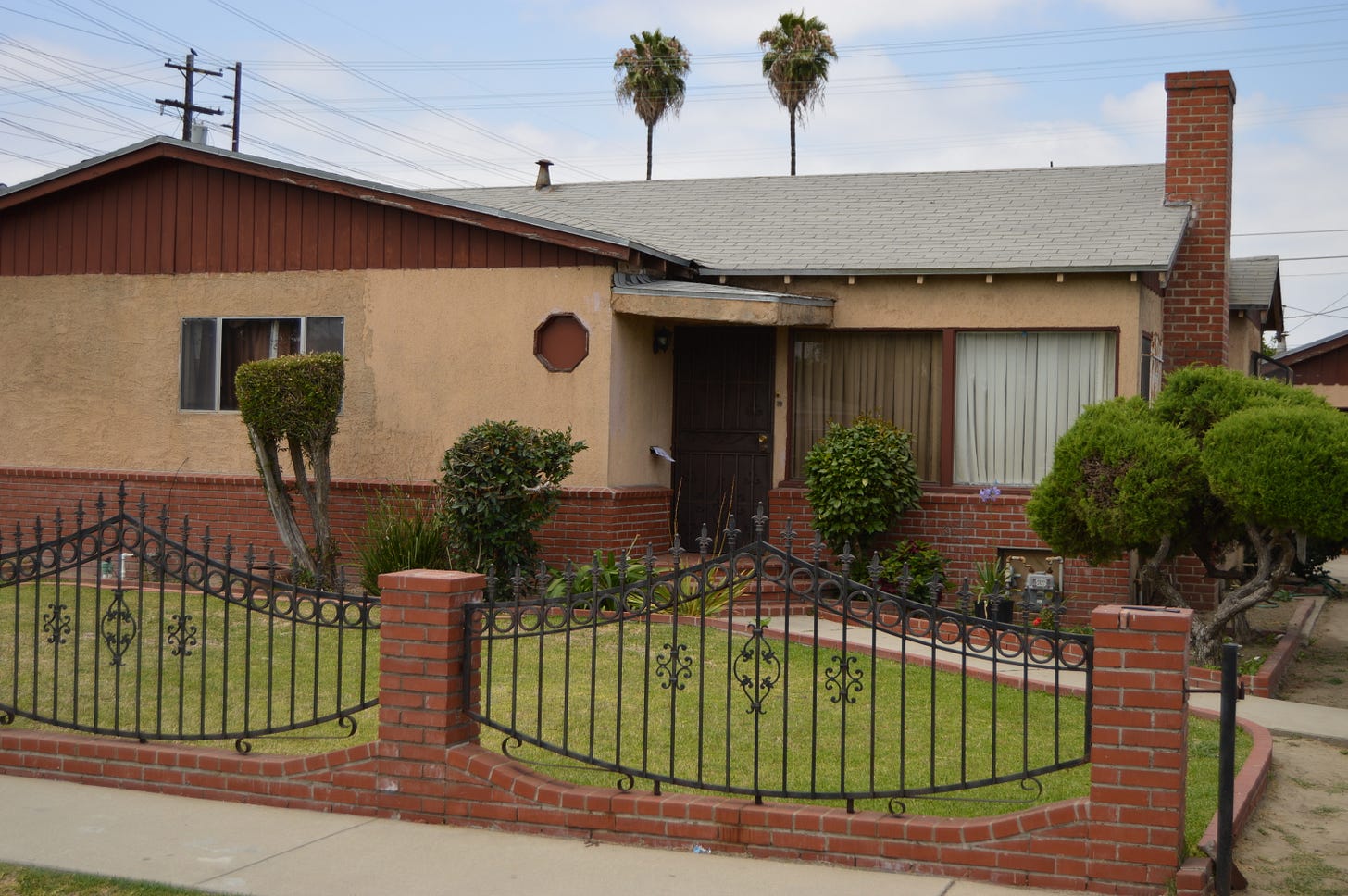 The doorbell played a long, melancholy tune, and my heart pounded. Eazy's eldest son Eric Wright, Jr. answered the door, holding his own baby boy. He'd agreed to meet me here for an interview, and was immediately friendly. He laughed when I explained that I felt out of place, noting that, if anyone took any notice of me at all, they would probably think I was a Mormon missionary.
Wright, Jr. wore a black Eazy-E shirt, a silver Eazy-E pendant, and had an Eazy-E air freshener hanging from the rear view mirror of his white Mercedes. Inside, the home had Eazy's gold albums and promotional photos on the walls.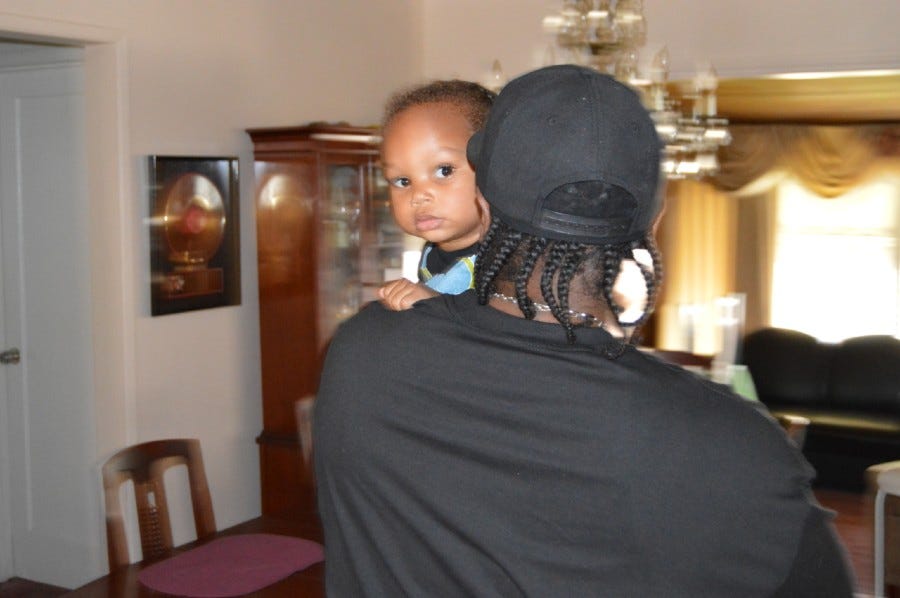 Wright Jr. took me to the backyard, where friends and family members chatted around a no-longer-functioning fountain and a basketball hoop, smoking weed. I muttered hello and put on an awkward smile.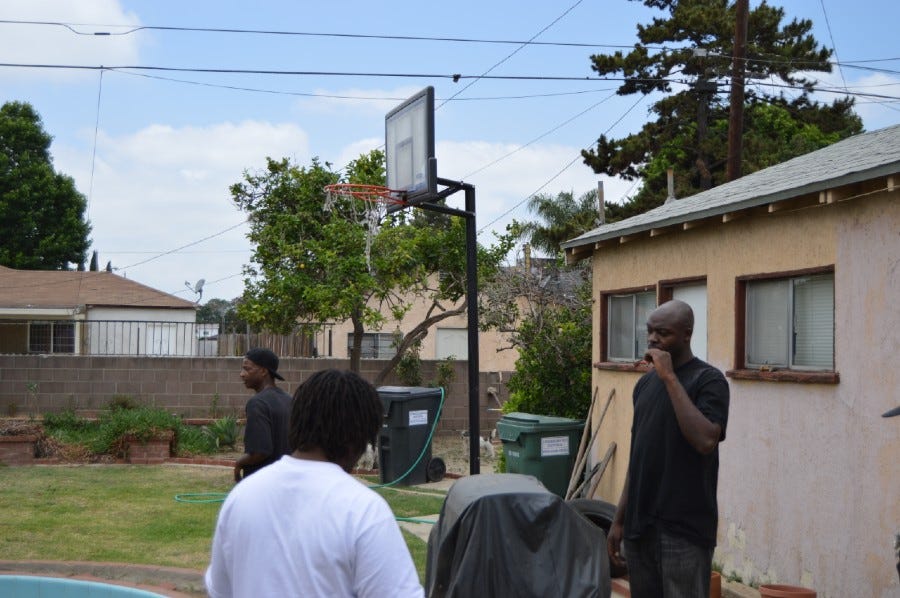 The group included another of Eazy's sons, Derrick Wright, and he and Eric, Jr. took me into their converted garage. It was the edifice to the right in the above picture, and it lives in rap lore. It's the spot where Eazy cut up his cocaine to prepare it for sale, and, later, where he and Dre had their first recording sessions, rapping over instrumental tracks from popular radio jams while Eazy's mother served them Kool-Aid. Dre even slept there sometimes.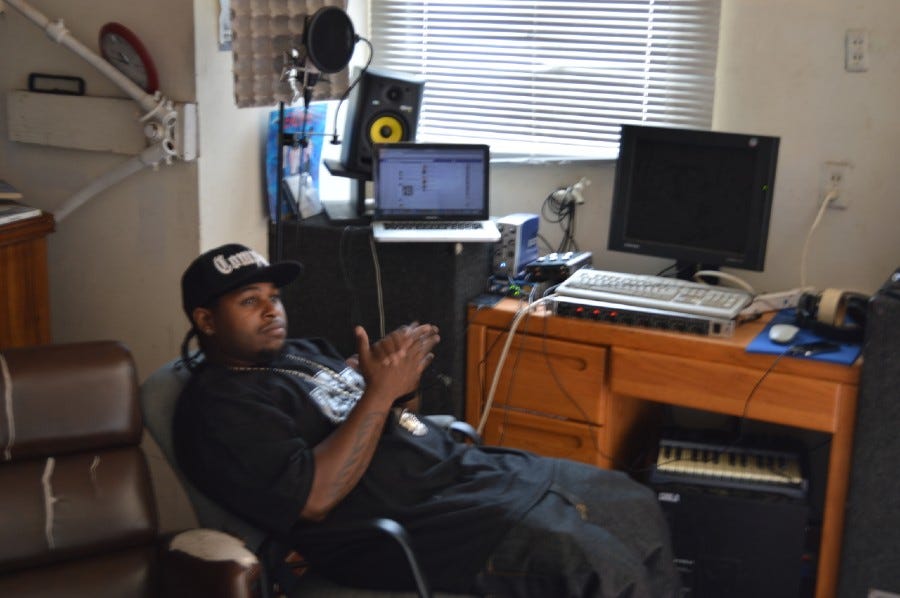 It was a humble room. On the walls were promotional posters for Eazy's albums, a blown up cover of Rap Pages, and even an old go-cart he used to tear around in. It looked, probably, like it did then, except for the recording equipment, which is more modern and is used by Eric Jr. (a rapper known as Lil Eazy-E) and Derrick, a rapper known as E3.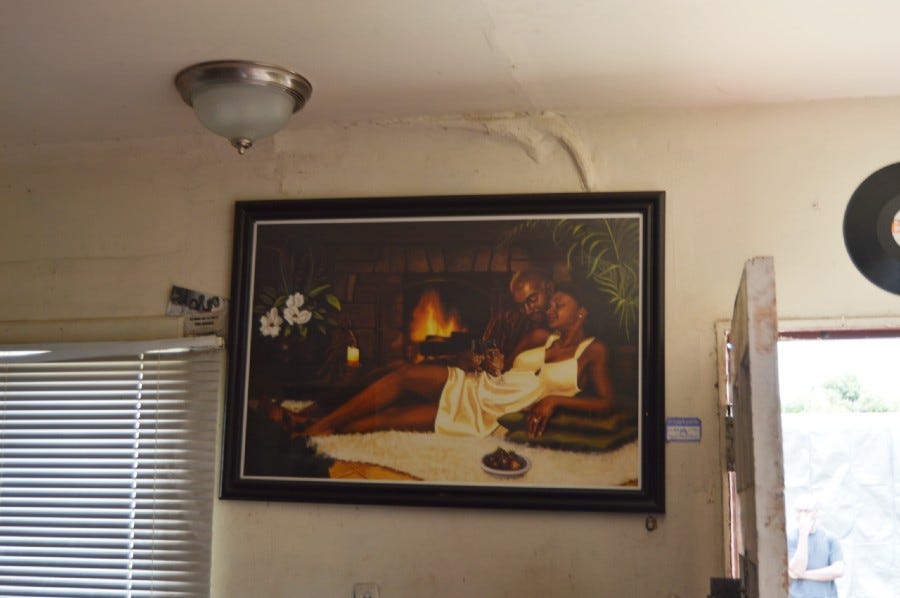 Hopefully this room will one day be recreated for the hip-hop Smithsonian, but for now it felt like a decaying shrine. It was an encapsulation of Eazy's legacy, which itself could use some preservation efforts.
Eazy is a legend in Compton, and, to many around the world, the greatest thing to ever happen to hip-hop music. But he's not considered an all-time icon like Tupac or Biggie. On the one hand this makes sense, considering he wasn't a natural rapper, didn't write his own lyrics, and his early songs were stitched together in the studio by Dr. Dre. But Eazy's influence went far beyond his musical talent. Starting from these humble beginnings, he assembled a rap empire and created a movement that subsumed hip-hop whole, for better or worse. In the early days of rap music, hardly anyone told stories about violence. Nowadays, hardly anyone doesn't.
---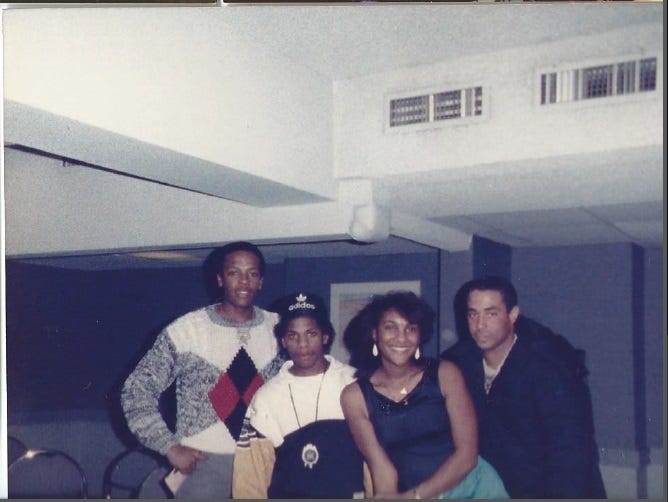 Dr. Dre, Eazy-E, MC J.B., MC Yella, courtesy of Juana Sperling
"He had a short man mentality, and would get in your face first. He was no sucker" —Eazy's childhood friend Arnold White.
"[We called him] Rat, Little Rat, 'cause he was like a mouse, his ears were big and he was little" — producer Sir Jinx.
Eazy came up as a lilliputian crack dealer, living in a time of persecution on both the micro and macro levels. The cops were after anyone young, male, and black south of downtown, and some rival dealers in the area had no love for him either. He feared being taken advantage of.
A typical day would start at 8:30 or 9 am. Eazy — Eric Wright at the time — would go over to a guy named Greg's house. Eric admired Greg because he could hotwire cars extremely quickly, said his friend Arnold White, adding that Eric and Greg would steal a car or a bike, or do a burglary.
The area was a Crips stronghold, and Eric repped the set, but he didn't care much about colors. And even when he was moving crack, he wasn't that serious about it. "I knew most of the guys from Compton and Watts that was moving some weight and he wasn't on the Richter scale," Freeway Rick Ross told me.
He definitely had no intention of being in the drug game for life. Eric's cousin Horace Butler got him started, and after Horace was murdered Eric began contemplating his exit strategy. But he didn't want to work at the post office like his old man. "I figure if I work for my damn self, I could lay my own fucking rules," Eazy told Rap Pages (which, incidentally, was owned by Larry Flynt). "If I wanna come in my office and shit in the middle of the floor, I shit in the middle of the floor." 
Eric sold off his remaining work in a firesale, and used the money to start Ruthless Records, a name the rapper Yomo came up with after seeing a newspaper ad for Danny Devito and Bette Midler's 1986 movie Ruthless People. The idea was to make songs showing how things really were where they lived, not fake, radio-friendly crap. Dre recruited a group called H.B.O. for the label, but when they refused to record a track written by Ice Cube called "The Boyz-N-The-Hood," Dre insisted that Eazy step in. Unfortunately, Eazy himself could not rap a lick. "I ain't never see nobody take that many takes," MC Ren told me. D.O.C. called him a "garbage" rapper. But Dre punched him in line-by-line, and Eazy's terrifying, yet oddly soothing timbre carried him the rest of the way.
"The line 'Cruising down the street in my '64' created gangsta rap," Terrence "Punch" Henderson, the president of the label responsible for Kendrick Lamar, told Vibe.
By the time Eazy gave his first live show on September 4, 1987, at a roller rink called Skateland, the single had hit the streets, and an edited version was spinning on the influential AM station KDAY. He was nervous, but he needn't have been. The 800 or so kids in attendance knew "Boyz" by heart and rapped it for him.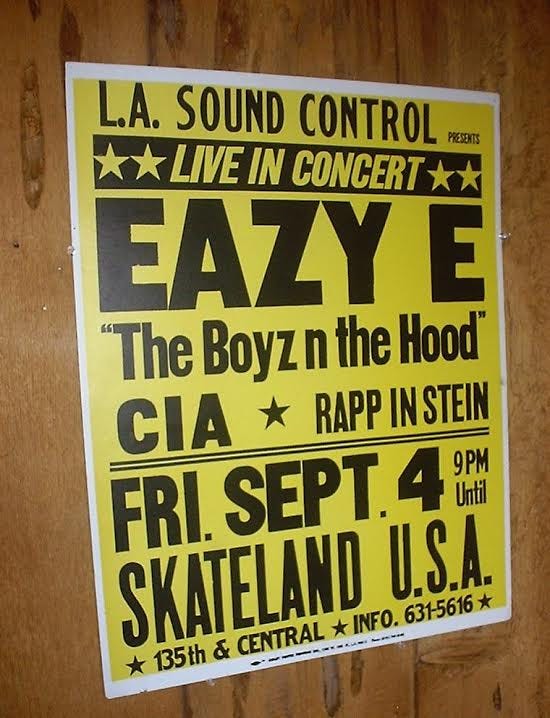 Courtesy of Todd Schweisinger
In his neighborhood Eazy often wore blue, but Skateland was in the heart of Bloods country, and so for the show he wore Raiders gear, jeans, and Nikes. In the process, he created the fashion template that would be employed by N.W.A, Ruthless's "super group" consisting of Eazy, his neighbors MC Ren and Dre, Dre's song-and-dance crewmate DJ Yella, and a popular local DJ named Arabian Prince. The act was rounded out by a high school kid who lived on the border of Inglewood and South Central, who called himself Ice Cube.
Though there is strong reason to believe that Dr. Dre co-founded Ruthless Records with Eazy, and thus was screwed out of millions in the coming years, they never signed any paperwork noting as much. Eazy took on a veteran music industry manager Jerry Heller, who took great care of Eazy but often overlooked everyone else. And so, when the spoils from Ruthless came in, Eazy bought himself a new house in nearby Norwalk.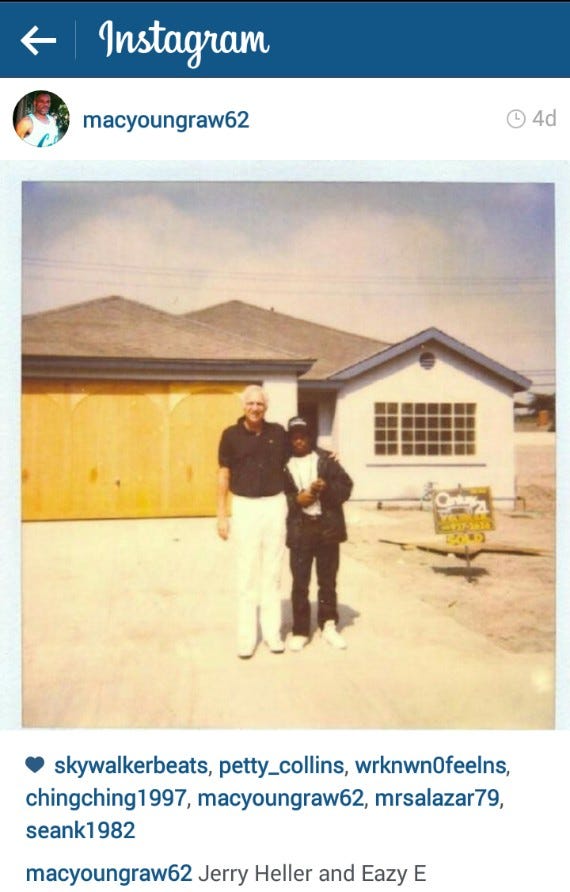 Eazy's musical persona was that of a suave, joke-cracking, sometimes-dangerous street hustler. Neither he nor Dr. Dre were political like Ice Cube, who came up with the idea for "Fuck the Police" — surely the most influential protest song of all time — but the three of them together were a potent force. The 1988 albums Straight Outta Compton and Eazy's debut Eazy-Duz-It sold more than five million copies combined.
Eazy was rich. After buying his home in Norwalk, he bought one in Woodland Hills.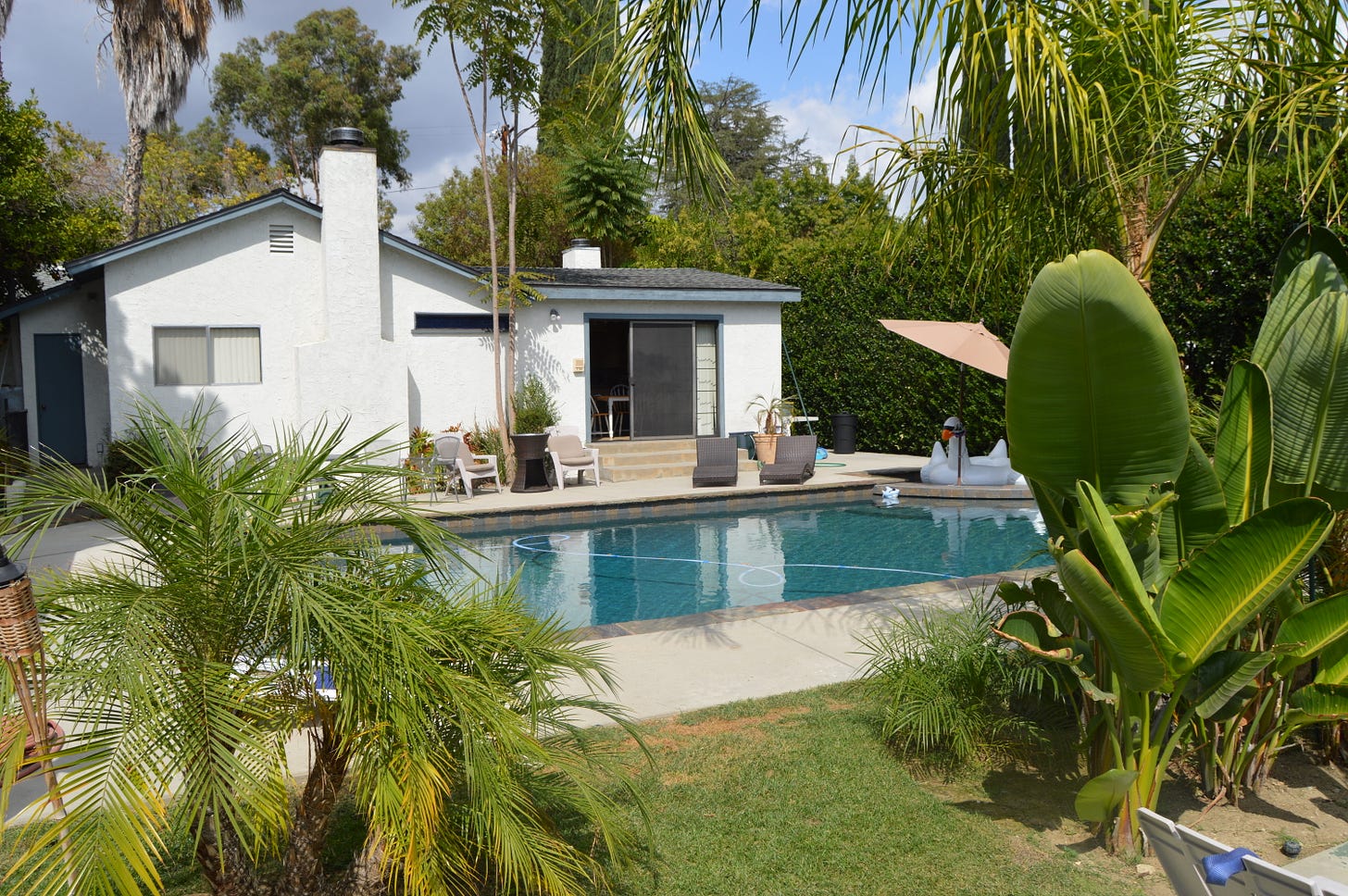 Eazy's Woodland Hills home today
Eazy did awful things to many people. He shot his girlfriend Tracy Jernagin with a BB gun (sending her to the hospital) and beat up Dr. Dre's girlfriend Lisa Johnson (whom Dre himself also abused). The angel on his left shoulder bickered with the devil on his right. His assistant Charis Henry remembers riding shotgun with him in his Mercedes once on the freeway when someone cut him off. "You dumb bitch," he said, before turning to Henry and gasping. "I'm sorry, I didn't mean to say that." 
He was also generous, giving jobs to his old friends from the neighborhood, and piles of treats and goodies to little kids. "Eric was the pied piper walking through Disneyland," said a record distributor named Violet Brown. "Kids would recognize him, stop him for his autograph, and pretty soon he was walking around with hordes of kids following him." He dispersed record contracts, cars, grocery bags of marijuana that smelled like pesticide, and rent-free rooms in his houses. Bizzy Bone said Eazy would give them bricks of weed and stacks of cash sometimes, for no particular reason.*
*Eazy didn't drink or do drugs at all growing up, even while dealing. When N.W.A performed "8 Ball" his 40 ounce bottle would actually be filled with apple juice. But after the group dissolved he began smoking weed to ease his stress and as a creative lubricant, and he urged his artists to do the same.
When the money really started coming in, Jerry Heller bought a mansion in Calabasas, the tony suburb where the Kardashian-Wests now live. Eazy got one just down the block.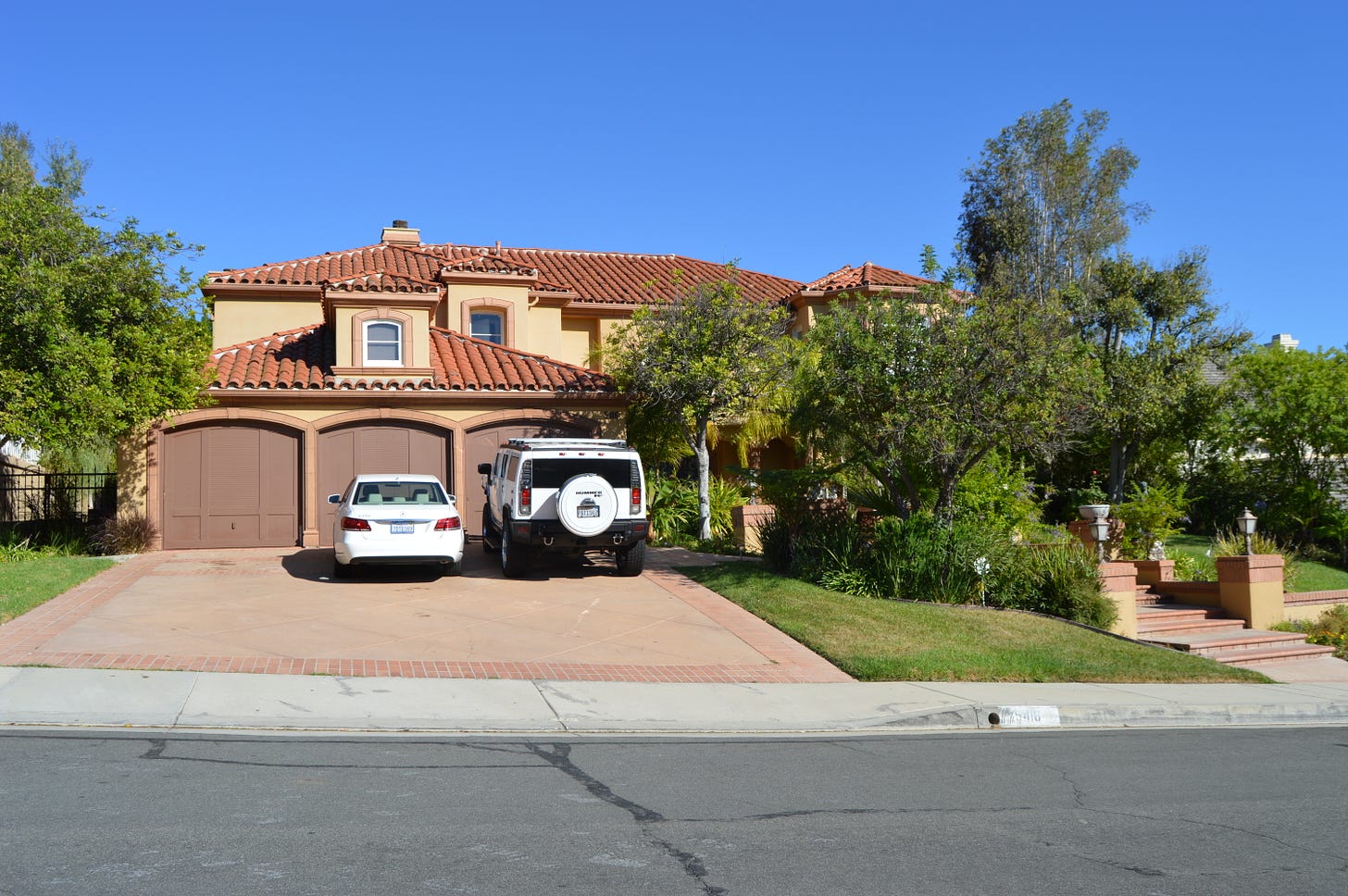 Eazy's Calabasas mansion today
Ruthless Records went on to become one the most successful independent labels in history. Jerry Heller advised Eazy on his business transactions, and (is it any wonder?) Eazy trusted him.

There's no proof that Eazy and Jerry violated the other N.W.A members' contracts, but there was every reason to think they didn't pay them what they were worth. Cube got out of N.W.A first, and then Dre left as well. They both were extremely successful without Eazy, which made him jealous.
When Dre dissed Eazy on his 1992 breakout album The Chronic, shit hit the fan. Eazy dissed Dre right back, and the beef threatened to spill over into real life. Eazy's on-record beef with Dre wasn't as serious as Biggie and Tupac's, but it was pretty damn serious, as evidenced by the Ruthless and Death Row near-fatal showdown described below.
Eazy somehow kept his cool throughout this, and in the post-N.W.A era signed a whole crop of new artists. Some were lucrative (particularly Bone Thugs-n-Harmony) but others were mainly good for Eazy's peace of mind, particularly a Mexican-American rapper named Toker, who came from the same part of South Central as a girl Eazy had dated, and whose crew could potentially provide muscle.
Eazy and Toker (who was murdered not long ago, and whom I will discuss in a future post) grew to be best friends. He would laugh when Eazy called people on his "flip phone" -- not the clamshell variety popular in the mid-aughts, but the early, illegal cellulars that piggybacked on someone else's line and let you make calls for free. "We said, 'What the fuck you doing? You got all the money in the world,'" Toker said. But Eazy did it to maintain his connection to the streets, to recall the feeling of breaking the rules.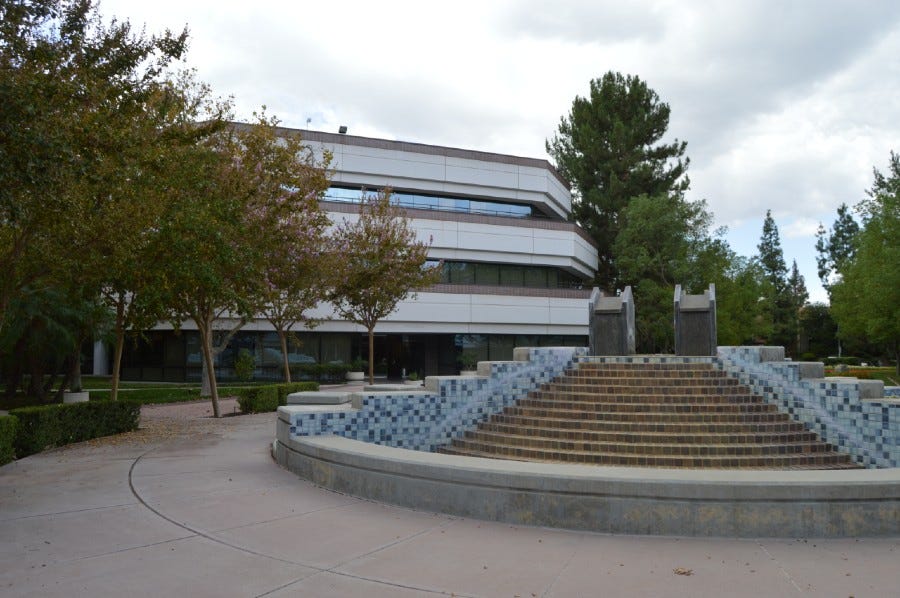 Ruthless Records' Woodland Hills offices
When Eazy was suddenly diagnosed as HIV+, and then with AIDS, everyone was shocked. Eazy later claimed he got the disease by sleeping around with many women, but an AIDS expert I talked to for Original Gangstas says the odds of this happening are slim.
Many people have theories about how Eazy contracted the disease; Ruthless rapper Kid Frost -- who now goes by Frost -- contends that Eazy was given the virus via "tainted" acupuncture needles, after beginning treatment following an accident while riding 4-wheelers. In an interview for a documentary about Latinos in rap called For the Record, Frost said Eazy was injected by someone (Jerry Heller is implied), though he offers no evidence, beyond the fact that Eazy died quickly. I find this hard to believe, even more doubtful than the theory that Suge killed Eazy.
Whatever the case, Eazy deteriorated quickly. At Cedars-Sinai, the Nation of Islam stood guard. Eazy married his girlfriend Tomica Woods, a former Motown Records employee, in a hastily-arranged bedside ceremony. This may have been about love, or because he wanted someone to shepherd his label after he was gone. Or both.
Nonetheless, Tomica has somehow emerged as the villain of this story. Many of Eazy's family members believe she did not divide up his inheritance properly. The fact that Ruthless floundered after his death, under her watch, didn't help.
But it would have floundered under anyone's watch. Eazy was sui generis. There was no one like him. He may not have written, say, "The Boyz-n-the-Hood," and he may have struggled to rap it initially, but he embodied the song's character — the figure that would come to epitomize gangsta rap — in a way no one else could have. The songs he and N.W.A created gave voice to people who were born with little, but weren't going to be pushed around.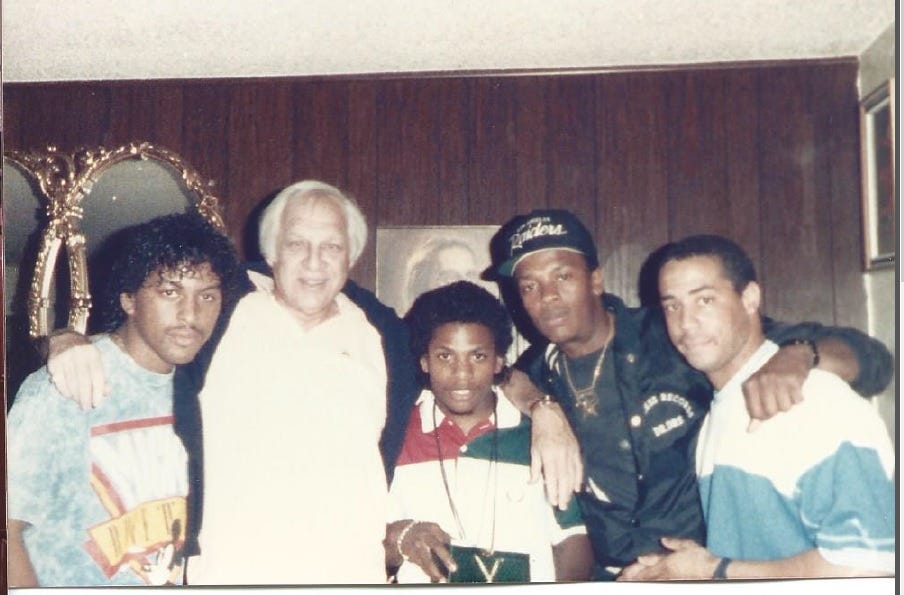 Arabian Prince, Jerry Heller, Eazy-E, Dr. Dre, DJ Yella, courtesy of Juana Sperling
In the decades since his death, Eazy's music has permeated youth cultures around the world, changing the landscape of not just music, but fashion and the arts.
That so many artists feel free to express themselves in whatever manner they choose, to say whatever nasty thing that's on their mind, no matter who it might offend? That's Eazy's influence. And it's trickled down to the rest of us, whether we realize it or not.
The Hip-Hop 25
counts down the 25 greatest rap artists in history, as part of Ben Westhoff's newsletter
Drugs and Hip-Hop
.
Go paid now
before it all goes behind a paywall.