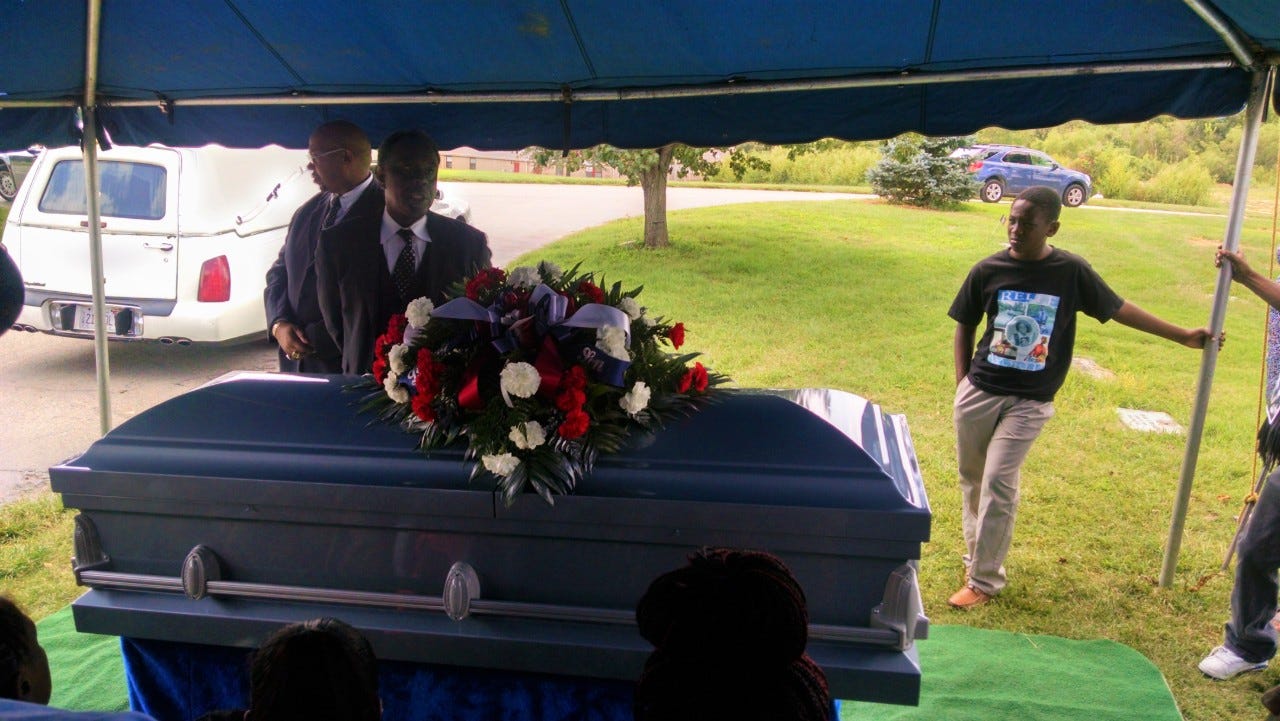 Jorell Cleveland's burial
Ben Westhoff's newsletter Drugs + Hip-Hop is published once or twice a week. Go paid now before it goes behind a paywall.
The Hip-Hop 25 continues with Nicki Minaj.
---
My books are popular with prisoners. Faint praise, perhaps, since they're a captive audience, but I'm always happy to give copies to incarcerated people.
I sent both Original Gangstas and Fentanyl, Inc. to a friend I met through Jorell Cleveland, my little brother in the Big Brothers, Big Sisters program, who was murdered in 2016.
I'll call this guy Brian.
Brian is a good dude at heart who has had substance abuse issues and is serving state time for a crime he regrets. From Amazon (you're required to use Amazon) I ordered him a bunch of books he requested, including some street/urban lit titles that the Missouri prison system refused to allow. Turns out they censor thousands of titles, and won't even let you see the banned books list!
That's some BS, but at least my books got through. Brian thanked me, and that was that. Until a few weeks ago, that is, when he called and asked if I could send them again.
Brian: Somebody broke in my locker, so both of them books you gave me [were stolen].

Me: Were you able to read them before they were taken?

Yeah. But I was charging people. If someone wanted to see it, I would charge them a dollar to read it. But this dude he kept asking me, and I told him it was a line. And so at the end of the night I go collect the books from people that ain't done with them, because I don't let them get it at night. Somebody busted my locker open, took them books you gave me and I think it's this dude. So I'm finna go and whoop him like in an hour. I'm lucky you wrote me -- cause I'm gonna beat him.

Well, don't do it! I'll send you new ones.

That's not the point, Ben. I got to.

Why, though?

Because everybody gonna think I'm a ho.

But haven't you already established yourself in there?

Yes…but I told everybody -- I made a big announcement [he's cut off by the operator saying, "This call is from a correctional facility, and may be monitored and recorded."] I'm just going to take off on the person that I think got it.

I would caution against it. I would warn against it. You could get sent to the hole, and it's no fun to be in the hole, right?

It's not.

So please don't do it.

[Silence.]

Just curious, which of my books are the most popular for $1 rentals?

The fentanyl book. Because nobody ever heard of no book like that. You know, there's a big fentanyl epidemic up here. A lot of people did die at this camp off fentanyl. It was a big epidemic, so people looked at it as a hustler point, like they wanna sell it, they wanna know where it really come from. Even the CO's that seen [the book] was so shocked like, 'Wild.' That must have been the first book [on the subject.] Because you know fentanyl is like a new drug to the streets.
I am horrified to report that, despite my pleas, Brian went after the guy who he believed stole his books, which led to Brian being sent to the hole, where he remains right now. He still has access to email, though, and continues to ask me to send him more copies of my books.
Readers, tell me: Should I? I want to help him out, but it seems like a tricky moral question. I don't want a situation that inspires more violence.
---
Brian and I have spoken frequently about his substance abuse issues. He's been using heroin for some time, and taking Xanax pills, though it's likely both drugs, which he bought in the different parts of St. Louis city and county where he lived before going to prison, were cut with fentanyl.
Before he went inside, I put him in touch with a St. Louis County clinic that distributes buprenorphine, a low-level opioid used to treat addiction, but he hasn't been able to continue using it in prison.
I thought of him when I received an email recently from Percy Menzies, a St. Louis-based addiction-treatments expert who is president of the Assisted Recovery Centers of America.
The 2019 numbers for opioid overdoses in Missouri just came in, he notes. Overdose deaths in the St Louis area decreased 5%, but deaths for Black males increased 17 percent. He continues:
Our jails and prisons are filled with minority populations. They receive no treatment while incarcerated and virtually nothing when they are released.
Menzies worries that we're not prioritizing the opioid epidemic. He compares the funding for drugs for people impacted by HIV/AIDS, vs. people impacted by drugs and alcohol. The former group is much smaller, yet receives much more funding.
Small wonder we have over 26 medications to treat AIDS/HIV and only five to treat drugs and alcohol, and less than ten percent of [drug and alcohol] patients receive any of these medications.
There's more bad news. While it seemed possible that covid-19 would lead to a decrease in fentanyl overdoses, since quarantines disrupted the supply chain from China, it turns out the reverse is true. The latest numbers show a sharp increase in suspected overdoses since coronavirus emerged.
But perhaps there's a silver lining. Coronavirus "has shaken the very foundations of addiction treatment," Menzies goes on, at least when it comes to accessing methadone. For decades, patients could only receive methadone by coming into a clinic.
That was relaxed in one swoop by [the Substance Abuse and Mental Health Services Administration]. Clinics now have the flexibility of allowing patients 2-4 weeks of take-home doses. If permanently implemented, it would be a huge convenience for the patients but the clinics may resist this as a long term solution.
As I noted in my post last week about George Floyd, however, medication is not enough. Menzies agrees. Helping people beat opioids requires comprehensive treatment programs that address not just drug use, but the lifestyles of users often living in poverty.
"If we are going to make headway in the fight against the opioid crisis," he concludes, "it has to involve removing the restrictions on access to methadone and buprenorphine."
---
Ben Westhoff's newsletter Drugs + Hip-Hop is published once or twice a week. Go paid now before it goes behind a paywall.
The Hip-Hop 25 continues with Nicki Minaj.